Vendors work for you. Partners work with you.
You're coordinating a critical annual business or leadership meeting for your company. It's a huge opportunity but also a huge undertaking. Take a moment to consider your go-to event vendors –are they just one more detail to monitor or do they grasp what you are trying to do and work to make your job easier?
There is a big difference between a vendor you bring in to execute specific instructions and a partner you trust to collaborate with during the planning process.
Vendors often don't make your job any easier. Even the best can quickly become another difficult relationship to manage as details change and requirements shift. Are they anticipating problems, or do they leave that to you? Do they make you more agile or do they struggle to keep up?
There is a better way. You should expect more from your vendor.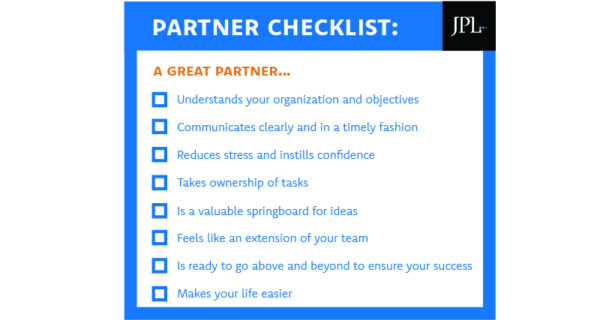 A True Partner Will Invest in You
A partner understands your ultimate goal and helps you accomplish it. Flawless technical production represents table stakes – you need more from a partner than just being at the right place at the right time.
A strategic partner understands the strategy behind the event, has a grasp of the audience and leverages their own experience to help you deploy best practices.
That type of consultative partnership comes from a vendor willing to invest in your success before, during and after the event. You need a partner who isn't just executing a task but one who is working to make you more successful.
A Partner Collaborates and Brings Fresh Ideas
Part of collaborating fully is bringing new ideas grounded in expertise to the table. Finding that new, engaging experience brings attendees together in unique, inspiring ways, and advances the goals of the meeting doesn't happen by accident. It takes collaboration that is born out of experience, insights and infused with creativity. That just isn't possible with vendors that expect to load-in, put on the same event as last year but with flashier technology, then load-out.
A Partner is Accountable
Many vendors claim to be an extension of your team, but a great partner will reduce stress and take on accountability. Specifically, the type of accountability you need – not promises to "make good" after an error, but ownership.
You know they're ready for the inevitable curve balls because they have bought in to what you are working to achieve and have already planned for the inevitable. That type of accountability instills confidence.
We've all been there. We know you need an agile partner who is thinking ahead and can help you manage the surprises or last-minute changes. If you have a great partnership, you have a team ready to pitch in and help deliver a great meeting that keeps the key message at the center of everyone's attention.