Another Zoom meeting won't move your audience.
Planning and executing your company's mission-critical virtual events and meetings requires a combination of skills, technology and experience that you can't buy off-the-shelf.
The shift to daily web meetings has kicked-off a surge of everyone from A/V companies to creative agencies trying their hand at virtual events. But the surge is also demonstrating that there's more to virtual events than webcams and screen sharing.
If slides and a webcam were ever enough, it certainly isn't now. Audiences' comfort level with digital meetings has grown and so have their expectations. They have planned and hosted their own events from birthday parties to work meetings and watched major events like the NFL Draft and newscasts go online.
If every day is a series of virtual meetings, how do you create badly-needed engagement with audiences who don't want another virtual talking head?
Deploy proven event strategies for digital engagement.
By now, we hope it is clear that a virtual event is not just a "scaled-back" version of a live event. It's true that there aren't large sets, travel, catering and venues to plan out. But the time saved in travel logistics needs to go back into making sure the event is seamless, the content is engaging and the objectives for your event are achieved.
This is where it is helpful to have an event partner who has experience developing and executing virtual events that are creative, strategic and technically-sound. The production that goes into a virtual event requires an elevated level of attention and care because the timing is compressed and the audience is less captive.
Earlier this year, JPL worked with a major retailer to shift from a live in-person event for industry analysts to a virtual event to accommodate travel restrictions. We shifted their approach to a live broadcast model, tailoring their planned experiences into a virtual program that would tell the same story through the content. The run time was compressed to two hours and they held the attention of over 500 participants from more than 25 states across the country, as evidenced by a successful live Q&A session and engagement metrics that far exceeded expectations.
We all know that part of the value of annual business meetings, leadership meetings or large corporate events is lifting the audience out of the everyday to engage, energize and inspire them. Organizations need a partner that can deliver engagement virtually in a way that communicates your message.
Use the right mix of technologies.
One of the first questions we get when discussing virtual events is what platform to use. Every meeting or webinar platform has pros and cons, including security and technology requirements. And many virtual event companies use one platform exclusively, forcing clients into their out-of-the-box functionality.
But depending on the needs of the event, an off-the-shelf virtual meeting platform might be the wrong solution. For example, every year we help an industry trade association livestream a lottery for manufacturer reps to secure exhibition space for a major national trade show. The program includes a livestreamed vendor selection lottery, real-time updates of available exhibition space and functionality that allows vendors to choose and register their selection. This custom solution uses a number of technologies to deliver the ideal experience for our client and their audience.
Delivering a seamless, user-friendly experience is why we advocate for being platform agnostic. It's not because all platforms do basically the same thing, but because a broader view of interactive technologies results in finding better solutions for reaching audiences. Ultimately, your business needs and desired attendee experience should dictate the right mix of technologies for your event.
Quality content makes a difference.
One of the biggest lessons to underscore is that quality content is critical. That's easy to say. No one sets out to make poor quality content. But content that is well thought out is critical to making an impact. Video and television producers do this every day. You need to plan and chunk your content so it tells a story that ladders up to the big picture. If you do this, the result will be compelling.
Another one of our clients faced a steep challenge. The U.S. Coast Guard Academy (USCGA) needed to reach newly accepted students to energize and excite them to attend. We had to replace their in-person campus visit with a virtual event that brought the USGCA experience to life.
We helped them develop a program that utilized video content, an event host, live interviews and real-time Q&A. Ultimately, the virtual event included 14 presenters from nine locations all across the U.S. and its territories. The event reached 320 viewers and ran for three hours and 45 minutes. The average viewing time for all attendees was three hours and eight minutes, exceeding USCGA's expectations. It's not something that happens without relying on significant experience, especially since the entire JPL crew was completely remote and had to coordinate without a physical backstage.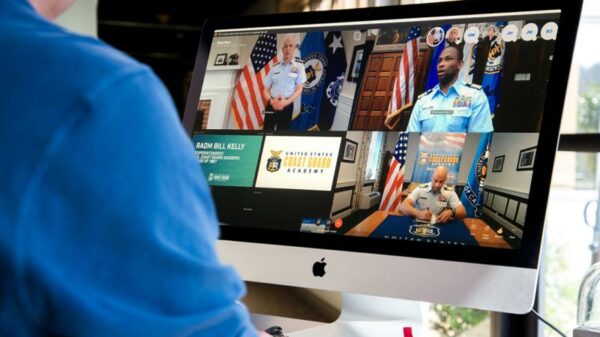 To produce a better virtual event, embrace the benefits.
It's not just a COVID-19 stopgap. There are valuable benefits to going virtual, not just in terms of cost savings. A virtual meeting can have a larger reach, engage a larger group, and result in faster mobilization of your message.  But to experience these benefits, you need a virtual event that delivers real engagement and real results. To do that, make sure you have a partner ready to address the user experience, not just the technical components.
Your in-person events are able to physically take attendees out of the ordinary. Your virtual events can accomplish similar results by engaging the audience with a user-friendly mix of technology, meaningful content and carefully orchestrated interactions.
Drop us a line at [email protected] if you would like to learn more about our approach to virtual events and see examples of our work.