Common issues that hinder SEO
Your website's ability to deliver ROI is directly related to how well it captures organic traffic from search. Website content is the catalyst by which you can expand brand visibility and capture the attention of high-value searchers. Understanding how to rank on the first page for relevant terms can translate into bottom line growth when you consider that:1
72%

of traffic goes to links listed on the first page of results

75%

of clicks go to the first three listings

32%

of search engine clicks are the first organic listing
Here are common issues we see during SEO audits that block a website from ranking higher in search:
SEO Blocker #1: Pages oversaturated with too many content themes
Brands can try to accomplish too much on a given page. Lumping multiple content themes together confuses search engines and causes a website to rank lower. While it is true that first page rankings usually have a lot of written content, quantity is not really the winner here. It is about the quality of the page in demonstrating expertise for a topic. Clearly focused content is both easy to read and easy to index. Search engines will favor a page that has deeper content about a particular topic over one page that tries to cover too much ground.
The cure for a case of page content oversaturation is a strategic search approach that maps website content to your customer journey. Infusing knowledge of your audience's search behaviors into your website's content strategy will increase your ranking for their questions. Likewise, it will organically establish your brand as a trusted, go-to resource within your target market.
SEO Blocker #2: Slow loading features 
Load speed directly impacts where your site ranks. This is especially true when it comes to mobile. Google's index gives greater weight to how fast your site loads on a mobile device than on a desktop. That means a slow mobile speed will hurt your overall SEO ranking, not just for mobile users.
Beyond protecting your search ranking, improving load speeds has been shown to increase visitor retention. 40% of users will abandon a page load if it takes longer than 3 seconds.2 High visitor retention means your audience is spending more time consuming content instead of waiting for it to load.
This does not mean you need to go conservative on your next website redesign to get a fast loading site. There are ways to design and develop engaging features into a website so that they do not cause slow load times. The most successful sites begin with a plan that prioritizes SEO and builds it into the DNA of your website. Your SEO strategist should be working in tandem with your developers so that the website is laser focused on search engine friendliness and providing an engaging user experience.
SEO Blocker #3: Missing JSON-LD
To give your on-page content the best possible chance to rank, you need a strong technical SEO implementation behind the site, and that should include a structured data markup language. The most common is JSON-LD.
JSON-LD helps search engines index and contextually understand your content better. Beyond the payoff of a high ranking, embedding search-rich code like structured data markup can also win your website a highly sought-after rich snippet (like the example pictured below). Rich snippets are more likely to be clicked on. Despite the SEO boost JSON-LD gives a website, only 25% of sites include it.3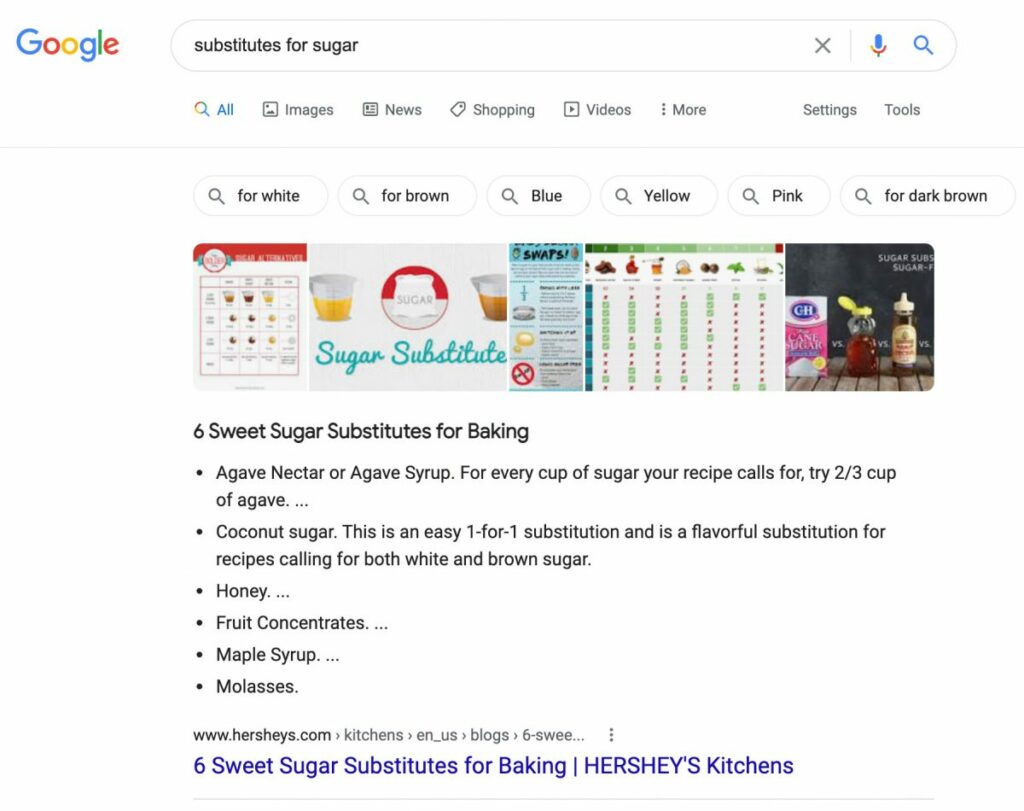 SEO Blocker #4: Adapting to voice search
Too many brands still believe voice search is something that can be addressed down the road. The time to optimize your website for voice search is already here. It is expected that 50% of searches will be through voice search this year and about 30% will be performed without a screen (i.e. smart speakers).4
Preparing a website for voice search technology is unique in approach. Brands need to make sure their website content is written in a way that is conversational and semantically accessible to be compatible with voice results. An approach is needed that goes beyond FAQ's and dives into the semantic optimization of content. This can mean using interrogative phrases (who, what, where, why, when, how) and optimizing for contextual questions. Preparing for voice search is also linked to our last point because deploying structured data markup is a pre-requisite for voice results.
SEO Blocker #5: Lack of niche content
Go ahead and deep dive into the nitty-gritty details of a targeted content theme on your website. It's called niche content, it's great for SEO and not enough brands take advantage of it.
By creating niche content on your website, you expand the opportunities to drive ROI from search for your brand. In fact, the collective effect of capturing traffic from a number of niche content themes can even outweigh the benefit of ranking for a broad, highly competitive term. While it is important to cover broad content themes, when we are thinking about ROI, niche content can be the better investment.
Speaking directly to a niche audience shows that you really know them and are an expert in your industry. It also sends signals to the search engines that you are a knowledgeable, trustworthy resource who is worthy of a high ranking.
Websites that deliver ROI from search are results-focused machines. They are fine-tuned to capitalize on their audience's search behaviors and drive conversions from the entire experience. A strategic approach to SEO is the key to making your website deliver. Removing these kinds of barriers will pave the way to driving high-value traffic to your website.
Sources