How Structured Data Improves Search Results
Achieving ROI from your website begins with a thought-through plan — a plan that builds search into its DNA and attracts high-value traffic. A combination of on-page factors, technical elements and content tells search engines how to contextually understand or rank your information. For performance marketers who want to be recognized as an authority in search, you can accelerate and further influence this complex process by using structured data.
What is structured data?
Structured data is a coding language (or markup) placed into the code of a webpage that provides additional details of a webpage's content; it helps translate your content for search engines so they can understand and display information in the right context.
You can refer to Schema.org to view all the types and properties of content you are able to mark up. The most advanced format of structured data is JSON-LD, and the value in utilizing these standardized coding formats is to make organizing and connecting content on the web easier for machines to provide better user experiences for searchers.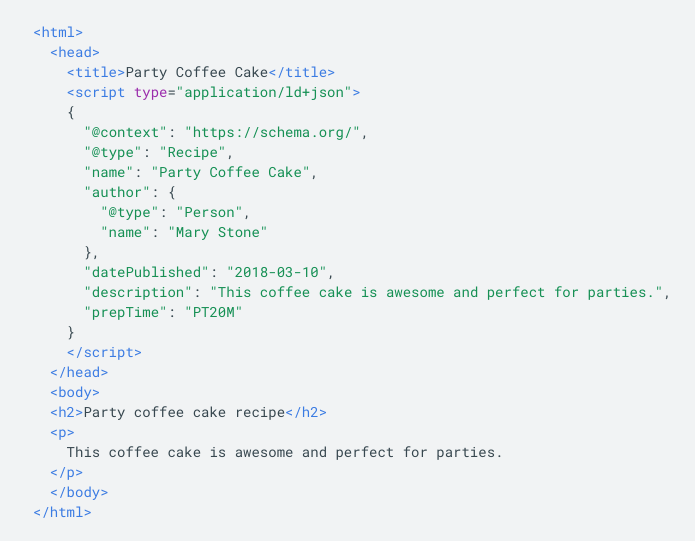 Example of a JSON-LD structured data snippet that might appear on a recipe page, describing
the title of the recipe, the author of the recipe, and other contextual details.
Source: https://developers.google.com/search/docs/guides/intro-structured-data
There are different types of code that can be deployed, but the key for marketers is understanding the benefits of structured data in an SEO strategy. Let's talk about those next.
What does structured data do?
Structured data enables search engines to have a deeper understanding of your content's usefulness in relation to a user query. When search engines interpret your content better, they can be more confident your page is the best answer for the question. And that's their ultimate goal. The best answer.
By sending additional layers of contextual detail about a webpage in code, directly to the search engines, you are accelerating and influencing how the machine interprets your content. You are educating the search engines so that they can perform better in regards to returning your content as the best answer to user queries. These contextual cues deliver data in a manner that machines can quickly interpret and apply. In turn, the search engine may reward the webpage with a rich snippet.
What is a rich snippet and why are they a big deal?
Rich snippets are the most valuable type of search result. They are awarded only to content that ranks on the first page of Google and are visually interesting, enhanced display results that give your SEO a real boost. Critical goals for ecommerce or product-focused sites, they will pull images and make your content more appealing and authoritative in the results. They appear at the top of the page and tend to receive better engagement. Studies show a rich snippet can increase your click-through rates (CTR) 2-8% and drive 20-30% more traffic than product links without them. And you can't pay for a rich snippet — they are granted to you as a reward for having great content.
Rich snippets are also a prerequisite for voice search results. About 80% of current voice results are read from rich snippet results. Optimizing your content is necessary to acquire rich snippets and doing so bridges the gap to the ever-shifting landscape of voice activated search. In voice results, only one answer is read back, so owning rich snippets can lead to a real competitive advantage in the long run.
Here's an example of a rich snippet earned by Hershey's Kitchens.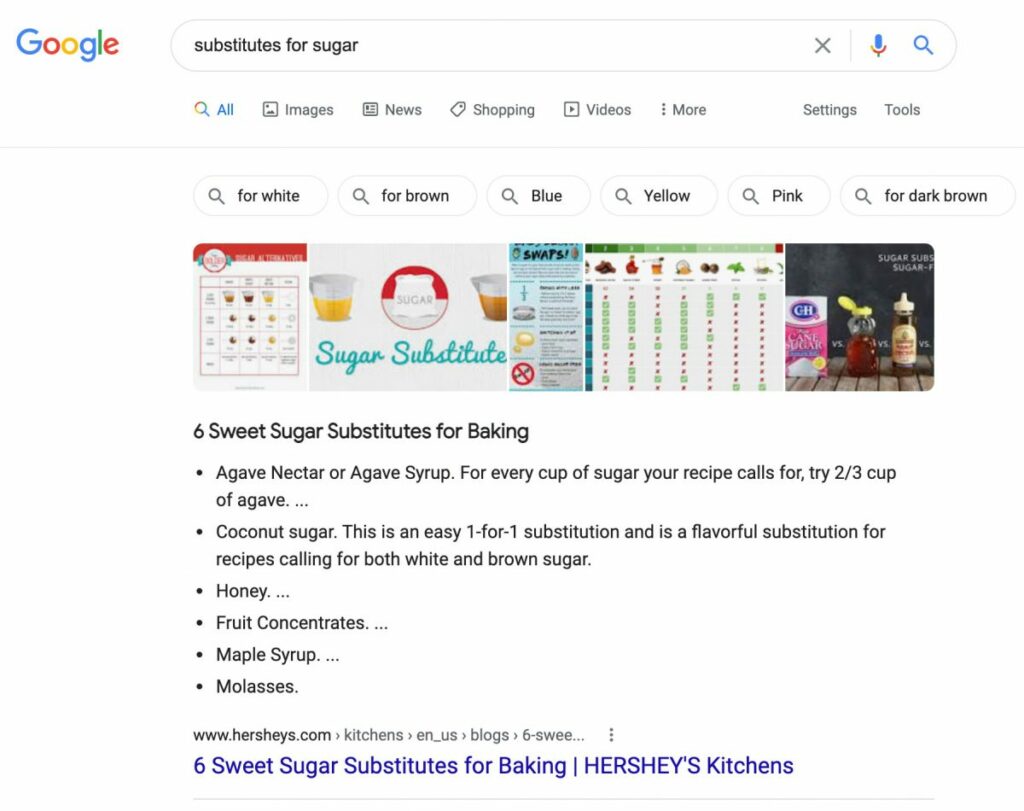 Delivering SEO ROI takes technical know-how and strategic focus.
Although technical in nature, structured data is a strategic effort. We are leveraging knowledge of your target audience's purchase journey and their search habits to inform the contextual cues we're sending to the search engines. The payoff is your brand will strengthen its control of the purchase funnel and capture the high-value traffic.
Google is the most utilized resource in the world, and they are constantly innovating to provide better user experiences. Their algorithm challenges content providers to continually provide value to their users in order to maintain search rankings and relevance. Only about 30% of websites currently utilize structured data. This presents a big opportunity for brands, and capitalizing on it can yield significant rewards. By unlocking the potential of a technical solution like structured data, performance marketers can achieve ROI from search and drive measurable business outcomes.