Is Google protecting users or taking data hostage? And what does that mean for me?
Google's plans to restrict third-party cookies in two years has put a date on the demise of third-party tracking cookies. The policy has turned heads because Google's Chrome browser owns 69% of the internet browser market. Other browsers have followed suit, like Apple's Safari that now blocks all third-party cookies. Safari boasts about 10% of the browser market.
Third-party cookies are a 25-year-old tech which allows virtually anyone to follow users around the web, tracking browser sessions, building individual user profiles, recording keystrokes, search history and even cursor movements. It is how data companies can build profiles of individual users.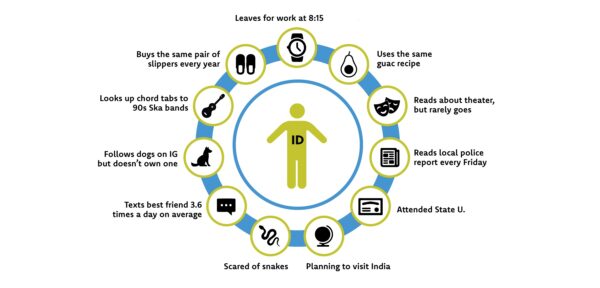 The technology is one of the primary ways that advertisers, publishers and a host of digital advertising companies measure ad outcomes and better understand audiences. Simply put, tracking cookies are the foundational technology of a sizeable portion of the digital advertising ecosystem.
But the tactic isn't well-liked.
Citing user privacy concerns, Google has the goal of making third-party cookies obsolete in two years. Apple and Mozilla have actually been curtailing third-party cookies for over a year. Apple's latest announcement about Safari is just putting into policy what they have functionally been doing since 2017. And privacy concerns in general, including limiting cross-site tracking cookies, are one of the main appeals of any number of less popular browsers like Brave, Opera and Tor.
But Chrome is different because of its market share. Google's policy decisions will force advertisers to reconsider some data practices entirely. In some ways, it will be the last shoe to drop, but it is also the largest.
Cookies have come under fire before. Past efforts by internet browsers to block cookies have resulted in companies collecting even more data to try to positively match users through unrelated data like fonts or system information (euphemistically called "fingerprinting"). The practice is considered more invasive because users can delete or block cookies, but there isn't a way to avoid fingerprinting.
Is Google baking-in privacy or just a competitive advantage?
Google says it is hoping to avoid unintended consequences by developing a set of open standards for data. It has named the standards the Privacy Sandbox. It will allow third parties to access data sets designed to keep individuals anonymous but still provide the same type of insights that tracking cookies would.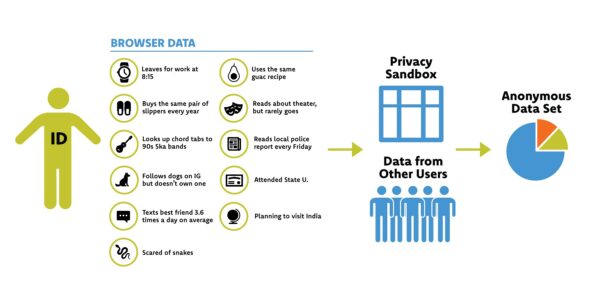 Flow of user data through a Privacy Sandbox to an anonymous data set for ad targeting.
This solution is possible because every user's browsing sessions are still being tracked by Google. Browsing data from Chrome and any other Google product is first party data to Google and is not under the same scrutiny from a user privacy perspective. Many in the advertising community question whether Google is safeguarding privacy or using its share of the browser market to starve other competitors of data.
Google contends that this is the first step towards creating a web that offers highly-effective advertising opportunities while being secure and private for individual users. Publishers and advertisers are skeptical given that blocking third-party cookies places Google as the exclusive owner of certain data sets necessary for personalized advertising. According to research by John Deighton, a professor at Harvard Business School, losing personalized advertising will cost advertisers $32 billion to $39 billion in ad revenue by 2025.
What could this mean for reaching my audience efficiently?
You can expect some changes in two places, though it is still very early to know what they will be:
Reporting, attribution and measurement will likely be impacted, with the exception of first-party data
Targeting may need to be reworked to make better use of different approaches
It is important to note that most targeting strategies should already leverage a variety of approaches to refine the prospective audience and be more efficient than any one approach.
Examples of this include contextual targeting, tapping into publisher's first-party data or location-based targeting. Many of these techniques tend to yield better, more efficient results. Based on our analysis, third-party data does drive the volume of clicks and sessions (accounting for 80-90%), but when you look deeper at the actual conversions, half or even more of the actual conversions are attributed to first-party data.
There may also be a renewed push to replicate the results of third-party tracking through newer techniques like machine learning or PII-backed coalitions (Personally Identifiable Information). JPL has been exploring these options and will continue to seek out the best, most efficient techniques.
Final word? Not yet – join the conversation.
Public policy makers are chewing the other end of the same stick. Newly enacted digital privacy laws do address cookies but vary in the protections or choices that are safeguarded. We've written about how our clients could be impacted by each legislative action (here, here and here) and will continue to do so as policies are defined or enacted. If the current trend continues, federal action in the U.S. will likely be required to clarify the current patchwork taking shape.
In addition, we've joined IAB's (Interactive Advertising Bureau's) Project Rearc in an effort to develop cutting-edge best practices for our clients and to join advertisers in the privacy and ad personalization conversation.
Any move away from a 25-year-old technology will create press, especially when the winner is expected to be the tech-giant forcing the change. It's still too early to tell how the hundreds of ad tech vendors will respond and what new technology might be created that respects privacy rights while also providing consumers with advertisements that are relevant and timely.
It will be critical for marketers to stay on top of their paid media supply chain and open discussions with their vendors on how they plan on responding to these changes. At JPL, we've invested in offering clients a results-oriented, agnostic approach to strategy, targeting and data, which allows us to adapt in a constantly changing industry. We're keeping the lines of communication open with everyone from Oracle to Google — and in between — to make sure our media recommendations are inline with data privacy best practices while also meeting our client's business objectives.