Matching flexible products with a smooth shopping experience
As a leading provider of 3D printer filament, NinjaTek makes products known for their unique performance characteristics and unparalleled quality. They needed a cutting-edge ecommerce website that was as easy to use as its products and reflected the brand's innovative reputation.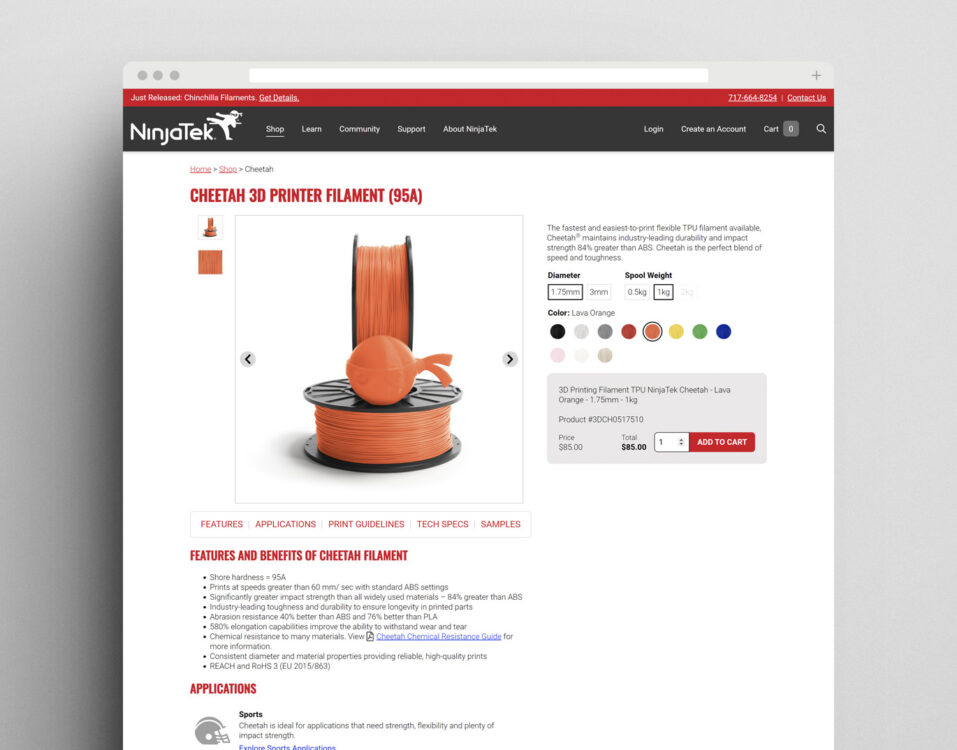 Challenge
As a brand line within the industrial-niche manufacturing family of Fenner Precision Polymers, NinjaTek had to redirect shoppers to another brand's shopping cart to complete a purchase. The abrupt shift during the purchasing process caused confusion and led to lost sales.
Solution
We built an end-to-end shopping experience that makes finding and purchasing NinjaTek products easy. The redesign positions the brand to attract professional R&D designers as well as weekend hobbyists looking to work with the best flexible 3D printing material on the market. Their filaments are easily discoverable from search, leading customers to mobile-friendly product pages with material information, inspiration and tech specs. On the back end, the site's flexible framework is quick to update and syncs with NinjaTek's ERP software. The new NinjaTek.com gets customers excited, drives sales and grows market share.