JPL partnered with the 4A's this summer to mentor Account Management Intern Samantha Ortiz through the Multicultural Advertising Intern Program (MAIP).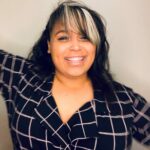 Ortiz is a senior at The City College of New York, majoring in Public Relations and Advertising. She previously interned at Walt Disney World.
"Through my fellowship and my mentors, I learned that you should always own who you are, and show off those parts of your personality that make you, you," said Ortiz. "Thanks to my JPL mentor Melissa Shirk, for helping me understand the Account Management role, which has helped shape my direction," she added.
"Samantha was always prepared and thoughtful in presenting the work during her MAIP project. She really leaned into research to execute the best solutions for the clients," said JPL Integrated Account Services Manager Melissa Shirk, who mentored Ortiz during her internship.
The 4A's MAIP mission is to provide and showcase the advertising industry ​with the best talent through world-class development opportunities.
JPL has participated in the MAIP program for four years as a way to support diverse talent in the industry.
Read More about Samantha's MAIP experience in this article she posted on LinkedIn.